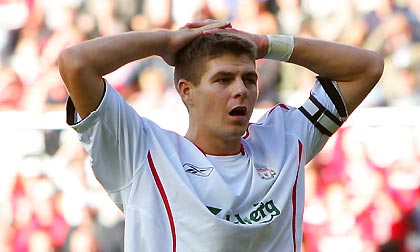 Everyone seems to be having a go at Steven Gerrard lately. Particularly the man who famously tried to lure him away over to the dark side and caused so many fans to lose respect for him.
Jose Mourinho writes a weekly column entitled 'Hotel Chelsea' for the Portuguese sports daily 'Record'.

In this section read a translated summary of Mourinho's fascinating insights.

31 December 2005
Boxing Day thrills

Boxing Day was not short on excitement. Goals, mistakes, controversy, thrashings, tactical battles, full stadiums. What I asked my players to do, I understood that my rival managers had asked the same: "Forget that you have to play four matches in eight days."

At Liverpool Gerrard showed that his status gets him off the hook: a double aggression within five seconds and not even a yellow card. Sky Sports, which showed Essien's aggression on Hamman for a whole week, cyclical every 30 minutes, this time decided it would be a waste of time to worry about replays. Essien suspended, Gerrard ignored.
Aside from Gerrard, Mourinho has also gone out of his way to make a list of all the players who have apparently been let off for potentially ending other players career - just like his beloved Essien - just to prove that the whole world is against Mourinho coz he's SO SPECIAL and the whole world is just SO JEALOUS of Chelsea.
Then Big Sam decided to join the bandwagon.
Allardyce said Sissoko stamped on Diouf, while insisting that Gerrard's studs landing on Kevin Nolan's chest was a deliberate move by the Liverpool skipper.

"I'm very disappointed because there were three major incidents that have been missed in our opinion," said Allardyce, who also believes that Bolton should have had a penalty.

"While we're pleased with the performance we feel we've been on the wrong end of some decisions today and maybe it's cost us two points.

"Firstly Kevin Nolan was brought down by Jamie Carragher with referee Mark Clattenburg waving play on, but he gave Steven Gerrard a penalty which was just as clear as Nolan's.

"There were two nasty incidents here today too. People talk about us being tough but we don't go over the top, but here Gerrard stamped on Nolan and Sissoko stamped on Dioufy and that's clear to see.

"He (Gerrard) has a look to see where he is before he did it so it's clear.
Since Big Sam has got super eyes and think that the referee made bad decisions, maybe he should be a referee or a linesman instead. God knows we do need some new referees in the EPL with more and more "was-it-a-goal-or-was-it-not", nearly-crossed-the-goal-line goals.
Bolton midfielder Nolan has also absolved Gerrard of any wrongdoing after watching the incident back on TV.

He said: "I just think Steven's accidentally stamped on me. His full weight was on his leg so it hurt but it's just one of those things.

"I thought it might have been deliberate at the time because he hurt me. I wanted to have a look at it and I have now and I don't think there was anything in it.

"I don't think anything should happen to him now because it would not be deserved."

Nolan: "It's a man's game, we're gonna get bumps and bruises, just have to get on with it"
It's good to see - whether or not Gerrard did it intentionally - that Nolan, quite unlike most professional footballers, do realise that these are all part and parcel of the game and what's the point of crying like a big girl about it? (Or giggling like a little girl like Vincent over other people's woes! =p)
However, Allardyce refused to take that view on board, stating: "I think Kevin has a clouded view of this because Steven Gerrard is a friend.

"Because he has defended him it does not make what Gerrard did right. For me, it was still a bad foul and the intent was there," quotes The Sun.
Okay, I really don't know WHAT IS WRONG WITH SAM ALLARDYCE. Maybe he thinks that by imitating Mourinho or by insisting that Gerrard did it intentionally, people would regard him as one of those great managers a la Mourinho. Maybe he's just trying to fit in coz despite Bolton being comfortable in mid-table, the focus isn't on them so maybe he's trying to draw attention to himself and his team. I fully expect another long rant about it in one of those articles that he 'writes'. And it's also funny that it was reported by The S*n so maybe it's intentional malice on their part.
"Sometimes people don't like me on the pitch but I am a bad loser and I want to win every time," Diouf told the club's official website.

"The Liverpool match was a big game because we needed to react after Sunderland and Manchester United.

"I have a big character and I don't like it when someone is talking at me.

"I told Carragher to wait because I'm going to score and that's what I did."
Okay, big deal, so you beat Carragher and scored a goal that was also a 'handball'(oh wait, I'm sure it wasn't intentional at all) and yes you showed us how great you are - and also how despicable you are by falling down every 5 seconds and why most Liverpool fans wouldn't be too happy to welcome you back. Don't have to keep gloating about it. Funny how your manager didn't think it was intentional on your part to have such a 'natural reaction' to an opposition player being 5 feet away from you. Or maybe the pitch was slippery or there was mud all over or the pitch was still half-frozen or whatever...
Picture was googled.