HB would like to convey the '
Gong Xi Fa Cai
' to our readers sent by all the Chinese players (and managers) in the Premier League. Most of you do not realize this but there's more than the two.
Sun "please don't make me cry" Jihai (Man Citeh)
"
Don't i look like that Korean guy from 'Harold & Kumar go to White Castle
'?"
"Li Tie (used to be 8th choice in Everton)" Sheffield Utd
"
Sheff UNITED also famous what...
"
"Dong 'Red Devil!' Fangzhuo" Man United
"
In China, I am almost as famous as Yao Ming's brother!
"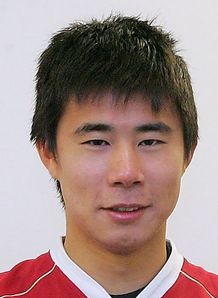 Lee Boh Yer Charlton Leeds West Ham Newcastle West Ham
"I practice the ancient Buddhist preaching of peace, tolerance and brotherhood"
Sammy Lee Ah Fook Unemployed
"At least I wasn't the ONLY manager sacked this season!"
And not forgetting the Koreans who also celebrate the Lunar New Year...
Lee Dong-Gook (Boro)
"Why yes, I DO watch Winter Sonata...!"
Lee Young-Pyo (Hotscum)
"Must suck up to new Spanish boss, lah"
Park Ji-Sung (Men.U)
"Fergie says I still got chance..."
Seol Ki-Hyeon (Fulham)
"Is there any good Korean kimchi restaurants in West London?"
Seol Kem-Bell (FC SemiRetirement)
"Yes, i don't look very Asian..."
Happy New Year, footie fans.